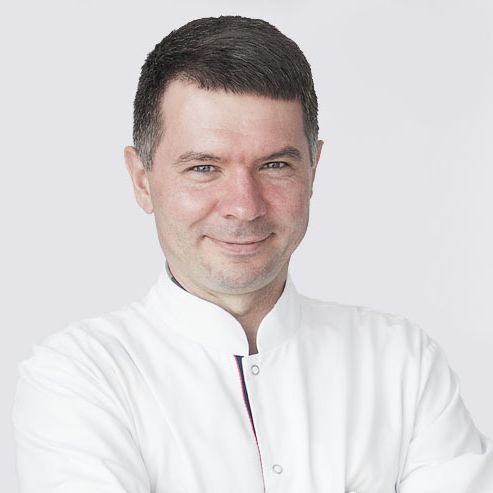 specialist in general surgery and surgical oncology,
specialist in gastroenterology,
head of the Department of Endoscopy
A graduate of the Medical University in Odessa.
Between 2004 and 2009 he took a specialisation course on general surgery at the Department of General, Gastrointestinal and Endocrine Surgery of the University of Medical Sciences in Poznan. Between 2010 and 2012 he participated in a specialisation course on gastroenterology at the Department of Gastroenterology, Nutrition and Internal Diseases of the University of Medical Sciences in Poznan. Between 2013 and 2015 he took a specialisation course on surgical oncology at Oncology Department II at the Greater Poland Cancer Centre.
In 2009 he was awarded a PhD in medical sciences for a thesis on gastroesophageal reflux disease.
In his daily practice he focuses on conservative and surgical treatment of gastrointestinal diseases, such as
gastroesophageal reflux disease,
inflammation and functional disorders of the upper and lower gastrointestinal tract,
rectum and anus diseases,
neoplasms of skin, gastrointestinal tract, breasts.
He performs abdominal ultrasound scans as well as diagnostic and surgical endoscopy of the gastrointestinal tract.
A participant of a number of courses organised by the Polish Society of Gastroenterology and the Polish Surgeons' Society.
Office hours
Specialist Clinic Gastroenterology

Tuesday 4 – 6 pm
Friday 3 – 5 pm

Specialist Clinic Surgical

Friday 5 – 7 pm